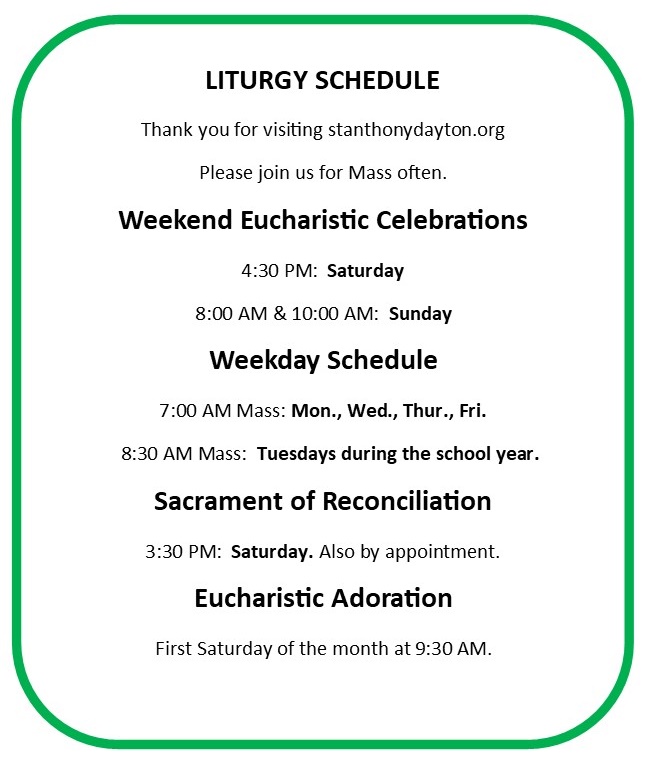 Reminder: If St. Anthony School is closed or delayed due to inclement weather there will be NO morning Mass that day. Please check the local stations before you head out on bad days!
ATTENTION:
Until further notice, there will be NO Wednesday morning Mass at St. Anthony due to Fr. John's absence.
Please consult the most recent bulletin for temporary changes to this schedule or for upcoming special Liturgies.
Parish phone number is 937-253-9132
Business Hours are M-F 9 AM to 4 PM
************************************************************************************
FISH FRY NEWS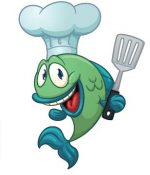 The St. Anthony Fish Fry will take place this year on Friday, February 23, 2018. Tickets go on sale in February at the same price as last year: $15. The Corpus Christi Fryers will again be serving up the best fish in town complete with their delicious sides. Upstairs, in the gym, the game floor will feature all the games you have come to love and one or two new ones as well! We know you will have a great time!
SOMETHING NEW THIS YEAR
FISHING FOR PRIZES– NEW!!
Help the Fish Fry Committee reel in a boatload of items to be used as raffle prizes at this year's event.
The committee is "wishin'" for certain items to fill up themed baskets or be combined with others to create unique selections that will appeal to everyone from handymen to armchair quarterbacks; to crafters and domestic chefs; to new Moms and Dads; to family board game enthusiasts as well as wine connoisseurs.
Please visit our "Wish Ponds" at the church doors this weekend and take home a fish or two. Each "Wish Fish" will have an item for you to bring back on the weekend of February 3rd and 4th and place in the baskets at the doors.
St. Anthony Parishioners and Friends are renowned for their generosity and creativity!! Thank you in advance from the Fish Fry Committee. If you cannot be there but would like to participate anyway, just give Betty a call at 937-258-3732 and I'll snag a fish or two for you!!
*****************************************
Winter Fun Nights: TRIVIA
Calling all who are looking for a fun way to spend a cold winter night playing a hot game of Trivia! Yes….you!
St. Anthony has been hosting a series of Trivia Nights on Fridays in January.
Unfortunately, the Family Tivia Night scheduled for January 12, had to be cancelled due to very bad weather! We will do our best to get that rescheduled for one night in the Spring.
Friday, January 19th is again set aside for Adults 21+. Last week's contests saw some amazing competition with the team called Love, Hope, and Faith taking home the Gold! It's RE-Match Time! Who will step up to take them on???? These nights feature 5 rounds of Trivia with prizes awarded after each round and at the end of the night for 1st and 2nd place teams. Teams can be 2-8 persons. Add to the fun and keep the costs down by bringing your own adult beverages and snacks. Additional soft drinks and snacks available for sale. "Mulligans"; 50/50 Raffle; and More!
Click here for the Adult Trivia Flyer.
Register for Trivia and be entered into the drawing for 2 Fish Fry Tickets!