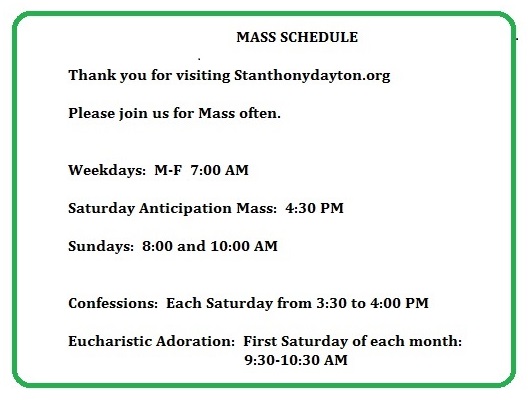 Mass with the School Children takes place on the First and Third Tuesdays of the month at 8:15 AM.
Liturgy of the Hours Morning Prayer is celebrated with the School Children on the Second and Fourth Tuesdays of the month. at 8:15 AM.
Please be sure to check the weekly bulletin for temporary changes to this schedule.
*******************************************************************************************************
Looking Ahead:  Christmas Fair
November 12 &13
St. Anthony Parish is a busy place and we don't sit still for long!!  It is now time to shift your sights to the Christmas Fair which will take place in the school on Saturday and Sunday, November 12 and 13, 2016.  This is a joyful fundraiser for the parish and is well attended by both parishioners and neighborhood residents!  It's early, but there are a few things you can do to get ready for the Fair:
Mark your calendars now to keep the dates available for you to enjoy and participate.
Start rounding up your White Elephant castaway items to donate.
Start sewing, knitting, or painting items for the Arts and Crafts Booth.  Your special touches mean so much to others who are looking for the perfect gift item for a loved one.
Plan your baking project to donate to the Baked Goods table.  Whether it is for someone to enjoy at the Fair or meant to be taken home and shared with family members, your contribution is so appreciated!
If you would like to sell your own items, you may do so as a Vendor.  Click here for the printable form and apply early.  These spaces fill up fast!
Don't let this all this fun pass you by!!
******************************************************************************************************