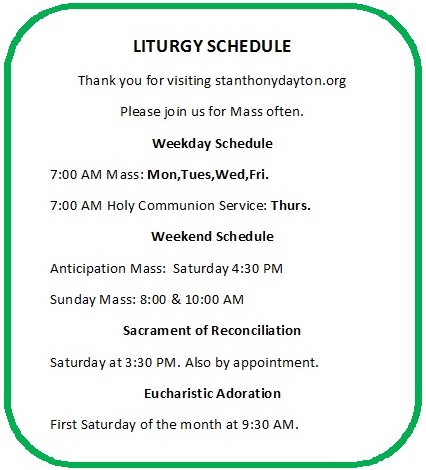 Mass with the School Children takes place on the First and Third Tuesdays of the month at 8:15 AM.
Liturgy of the Hours Morning Prayer is celebrated with the School Children on the Second and Fourth Tuesdays of the month. at 8:15 AM.
Please be sure to check the weekly bulletin for temporary changes to this schedule.
REMINDER: If school is cancelled or delayed due to inclement weather–the Parish Offices are also closed and the Mass for the day is cancelled.
*******************************************************************************************************
ST. ANTHONY FISH FRY
FRIDAY, FEBRUARY 24, 2017
6:00-11:30 PM
Mark your calendars now for a wonderful event to help you beat the winter blues! Come on out on Friday evening, February 24 2017, and join with friends and family of St. Anthony for a fun filled Fish Fry!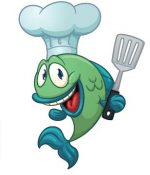 Tickets sell for just $13 in advance and include a delicious fried cod dinner prepared by the locally renowned Corpus Fryers! Two beverage tickets are included. You are encouraged to purchase tickets online using the Online Giving Button on this page. Although the Early Bird Sales have now been concluded, you may still purchase tickets in advance at the Parish Office during business hours only for $15 or at the entrance doors to the gym on the night of the event.
After dinner, join us on our "gaming floor"–the school gym–and try your luck at Showdown, BlackJack, Chuck-a-Luck, and other games. You will be greeted by friendly dealers, many great raffle prizes, 50/50 opportunities and more.
For more information on tickets, raffle prize donations, and volunteer opportunities…click here.
All we need now is YOU!
******************************************************************************************
PARISH PICNIC SURVEY RESULTS
SURVEY SAYS…..
Thanks to all who took the time to participate in the Survey concerning the future celebration of St. Anthony's Feast Day and the annual Parish Picnic The results have been presented to the Pastoral Council with these recommendations based on your input. It has been decided to

celebrate St. Anthony's Feast Day on the actual date–June 13–with a special Mass and reception afterward. The St. Anthony Community Picnic celebration will take place once school starts again in late summer to allow more of the school families the opportunity to participate. Continue to monitor the Weekend Bulletin and this site for more details closer to the event.
Several survey participants expressed the need for more people to be involved in the planning and running of these two events. Now is the time for you to step in and offer to help by calling the office and leaving your name or by emailing Fr. Greg at gkonerman@stanthonydayton.org.
Thank you for sharing your ideas and talents with St. Anthony!
***************************************************************************************
Announcing: Deacon David Doseck's
Ordination to the Priesthood
Answering the call is exactly what Deacon David Doseck has been doing for the past several years in the seminary. He entered the seminary in 2008 and has spent the last few years studying at Mount St. Mary's Seminary of the West, in Cincinnati, OH. Deacon David has become a regular face at both St. Anthony and Holy Angels for the past two years. He has visited the sick and home-bound parishioners; played with the children at both schools; prayed with us; helped out with programs; gave homilies, and so much more.
On May 20, 2017, Deacon David will be ordained at St. Peter's in Chain Cathedral, in Cincinnati, OH. Two buses have been secured for both parishes to go to St. Peter in Chains so that we can witness and give support to Deacon David on this monumental day of his ordination.
The bus will arrive at each parish by 8:30 a.m. and leave promptly by 8:50 a.m. The ordination Mass begins at 11 a.m. The buses will drop us off at the Cathedral and pick us up again at 2 p.m. We will have a 50 passenger bus for each parish for those who would like to attend. The cost is $20 per person (adult or child). Reservations will be first come first serve.
If you would like to attend his ordination, please fill out this form (I must have each person's name) and return it with your payment to your respective parish via collection basket or mail. For more information please call Janet Gaier at 253-9132 ex. 130.