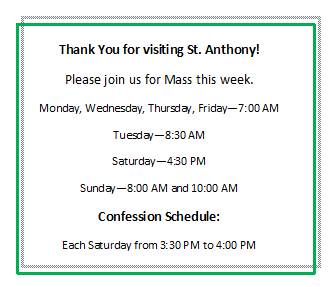 Winter Reminder:  If school is cancelled any day due to weather conditions or other emergency, there will be NO morning Mass that day.
**************************************************************************
                             MARCH FOR LIFE
JANUARY 22, 2015
This week, once again, a group of dedicated St. Anthony Parishioners will join with thousands of others in Washington, DC to stand up for LIFE!  Father Greg will join us on the bus this week leaving  on Wednesday, January 21, 2015 at 7:45 AM and returning on Friday evening, January 23, 2015.  The weather may be chilly but our hearts are warm as we speak up for the voiceless!  We speak truth to power by our peaceful prayerful presence.
The mainstream media will not cover this massive event!
But you can see it for yourself!!  You can watch The March for Life on EWTN from noon to about 4 PM on Thursday and see how many thousands of people of all ages are not afraid to stand up to their peers to uphold the beauty of every life!  Look hard…You might even catch a glimpse of St. Anthony Parish's  beautiful banner showing Mother Mary with Child and proclaiming we are One More Parish for Life!!
Remember that it takes courage to stand up for what is right!  Please join us in prayer this week in this important work.