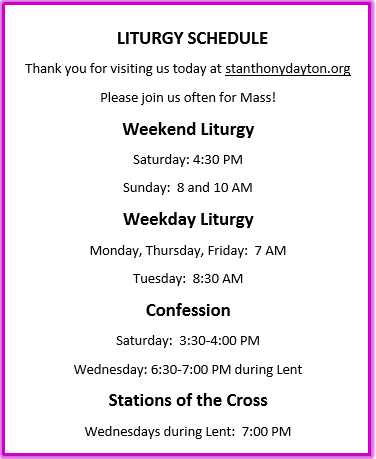 Reminder: If St. Anthony School is closed or delayed due to inclement weather there will be NO morning Mass that day. Please check the local stations before you head out on bad days!
ATTENTION:
Until further notice, there will be NO Wednesday morning Mass at St. Anthony due to Fr. John's absence.
Please consult the most recent bulletin for temporary changes to this schedule or for upcoming special Liturgies.
Parish phone number is 937-253-9132
Business Hours are M-F 9 AM to 4 PM
************************************************************************************
FISH FRY NEWS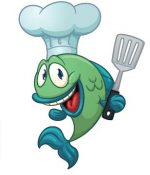 The St. Anthony Fish Fry will take place this year on Friday, February 23, 2018. Tickets go on sale in February at the same price as last year: $15. The Corpus Christi Fryers will again be serving up the best fish in town complete with their delicious sides. Upstairs, in the gym, the game floor will feature all the games you have come to love and one or two new ones as well! We know you will have a great time!
TICKETS AVAILABLE AFTER ALL MASSES
Tickets will be available all weekends in February before the Fish Fry. You may purchase tickets with cash, check or with a charge card. Visit the table in the back of Church and purchase the hottest ticket in town! You will be able to skip the long lines at the door the night of the Fish Fry! You may also purchase tickets online–up until Tuesday, February 20, 2018–through the WeShare secure site by clicking on the WeShare Logo. Those tickets will be held at the Will Call table at the doors of the Fish Fry.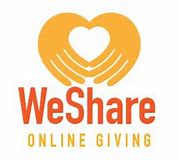 VOLUNTEERS NEEDED
The Parish Fish Fry is a major event and requires lots of helpers to make it a success. Please consider lending us a hand for just 2 hours that evening. You will have fun and meet people. To sign up through the SignUp Genius website just click on the logo. You may also sign up by emailing Betty at stawebmaster@gmail.org or by calling 937-258-3732 and leaving a message. Lot of jobs are available.

*****************************************
********************************************