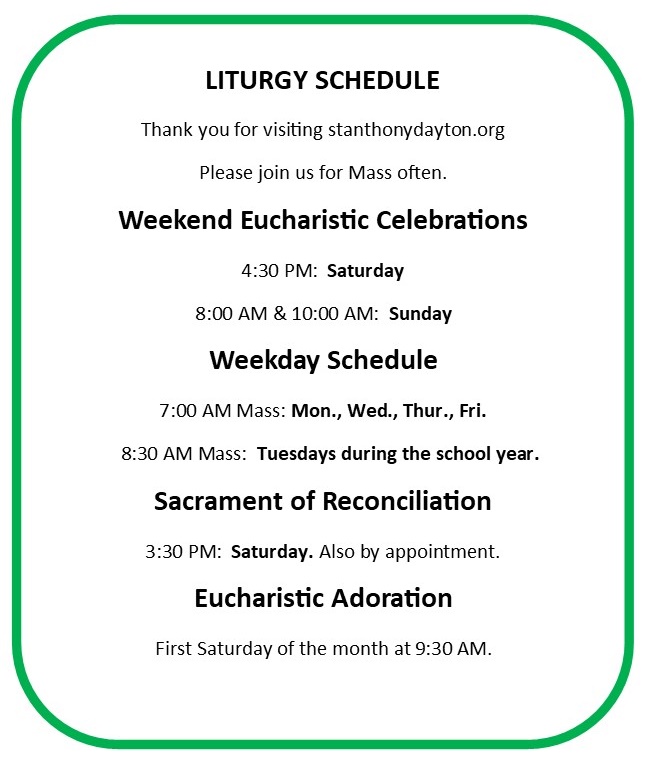 Reminder: If St. Anthony School is closed or delayed due to inclement weather there will be NO morning Mass that day. Please check the local stations before you head out on bad days!
Please consult the most recent bulletin for temporary changes to this schedule or for upcoming special Liturgies.
Parish phone number is 937-253-9132
Business Hours are M-F 9 AM to 4 PM
************************************************************************************

PASTORAL REGION RETREAT
SATURDAY, MAY 5, 2018 AT HOLY ANGELS
YOU are invited to OUR PASTORAL REGION at Holy Angels on Saturday, May 5, 2018.
The retreat will begin at 8:30 am with Mass and last until 1 pm ending with Benediction. There will be a light breakfast and some gathering time to mix and mingle. Greet people you know and meet some new people. There will be two talks and with time to share with others but also there will be quiet time for prayer and reflection. You can sign up online at either parish's website or use the sign up forms which are available at the doors. Place your registration in collection basket or send to the parish offices to the attention of Sr. Annette (937-229-5915) or Sharon Christy (937-253-9132)
Click for printable registration form.
Save time!! Click to register online.