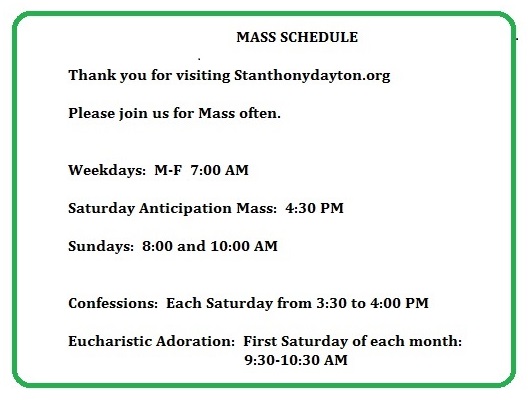 Please be sure to check the weekly bulletin for temporary changes to this schedule.
*******************************************************************************************************
                                    MANY THANKS!
We have so much to be grateful for at St. Anthony!  Take time out this summer to remember in prayer all people, whether Staff or Volunteer, who contribute so much to our Parish throughout the year.
Thank you to Janet Gaier and helpers for planning and presenting another wonderful Parish Picnic!  How do you arrange to always have perfect weather for this Feast Day Celebration?   The music, the food, and the door prizes made for a fun evening.  Thank you to all who brought fruit and sweets!
Thank you to Ms. Alana Campion and all the teachers, staff, and support persons for their dedication to the students of St. Anthony School.  You continue the tradition of 100 years of educating and training our precious children in a loving Catholic environment.
Thank you to all volunteers without whom the Parish could not run smoothly. Whether it be in the school, or in a Church ministry…whether it be in planning and organizing or sharing your talents for fundraisers….whether it be in coaching our youth in sports or by mentoring and tutoring them…whether it be by feeding the hungry, protecting the unborn or bringing Holy Communion to the home-bound… For whatever you do–your tithing of time and talent provide us with the valuable help we need to carry out our mission.
To those who work hard to keep our Parish Campus looking great–both indoors and outdoors–Thank You!
Thank you to all who contribute  financially to support St. Anthony Parish.  May your generosity bring you many blessings and a tenfold return by our Heavenly Father.
Thank you to Father Greg and to Father Scott for your daily prayers and selfless commitment to sharing the Good News of Jesus with all of us.
This summer, spend some quiet time reflecting on how you, too, can make a difference at St. Anthony.  May God Bless You and keep you safe!
**********************************************************************************************